Often when I get together with other designers, we'll ask each other what projects we're working on. Right now I'm working on a project that I think even the non-designers will be interested in...I am designing the coffee table book for the new California Academy of Sciences building in Golden Gate Park, designed by Renzo Piano (who designed the Pompidou in Paris). The building opens in September of this year and will be directly across from the new de Young museum. It is a dream project and I am so, so, SO excited to be working on it. Since I think the studio signed an NDA or something with the Academy, I can't realy give away any details, but I can repost what has already been revealed on the web. First of all, a model of the building, from bird's-eye view: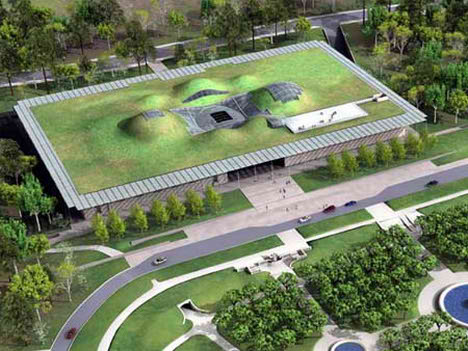 And that's pretty much what it looks like from the top. BTW, that's a living roof, made up of over 20 million plants. There was the problem of figuring out how to plant stuff on a sloping surface, so they came up with these trays made of coconut husks and tree sap. Once the plants started to root, the trays were locked together and they will eventually biodegrade. Here's a current view of the roof:
And here is what it looks like from inside the building:
The building is entirely green and energy efficient. Most of the focus right now is on the roof, but the details within the building are quite impressive as well. There are tons more details that I omitting here cuz I don't want to get in trouble. It will definitely be worth visiting when the museum finally opens!
* WIWOT = What I'm Working On Today. I send an email to Cinthia everyday with this subject line, just so we can keep in the loop. She thinks the acronym is hilarious for some reason...